Huntaway raw venison dog food is the most convenient way to feed your dog a healthy, grain-free raw food diet. Huntaway raw dog food is conveniently portioned into 3oz frozen cubes, enabling you to simply defrost as much healthy venison dog food as you need for each of your dog's new favourite meals. It lets you enjoy all the benefits of giving your dog a raw food diet, without the fuss!
How much Huntaway raw dog food should I feed?
Recommended daily servings of Huntaway are as follows:

• Small dog (11-22 lbs): 1-2 cubes
• Medium dog (23-55 lbs): 3-5 cubes
• Large dog (56+ lbs): 6+ cubes

This may differ from what is on the feeding label on your bag as feeding information has been recently updated alongside our formulation. Use our feeding calculator to get a customised serving amount for your dog!

The recommended feeding guide is not "one size fits all." The specific needs of individual dogs will differ depending on their metabolism, age, level of daily exercise, health issues, heredity, outdoor surroundings, stress, and anxiety.

We recommend feeding as your dog as you see fit; whether that's once or twice daily is your decision. It's all about what you and your pup prefer. Your feeding label shows the total daily requirement so make sure you halve the daily servings for each meal if you're feeding twice a day. For puppies and pregnant/nursing dogs, feed up to 2-3 times the above adult amount. Always consult your veterinarian as requirements vary based on the number of puppies and stage of lactation.
How to begin serving Huntaway to your dog
Digestion issues might result from food changes. Always introduce new foods gradually over the period of 7–10 days, blending the new diet with the old diet more and more. A dog's enthusiasm to eat shouldn't be confused with increasing hunger.
How do I serve Huntaway frozen raw dog food?
Our Huntaway frozen raw food diet is best served thawed in the refrigerator for 12 hours or more. It's easy to do – just remove the number of portions you need and put the cubes into a covered container to thaw in the fridge evenly and tidily.

We recommend taking your dinner cubes of Huntaway out of the freezer and putting them into the fridge to thaw when you feed your dog breakfast...then you can take your breakfast cubes out when you feed your dog dinner. Voilà, you've always got the next meal ready to go!
What's the best way to handle Huntaway raw dog food?
Keep Huntaway raw venison dog food frozen. For your protection, keep separate from other foods, wash hands and surfaces thoroughly after handling and wash your pet's bowl after each feed. Any food not eaten within 30 minutes of offering should be discarded.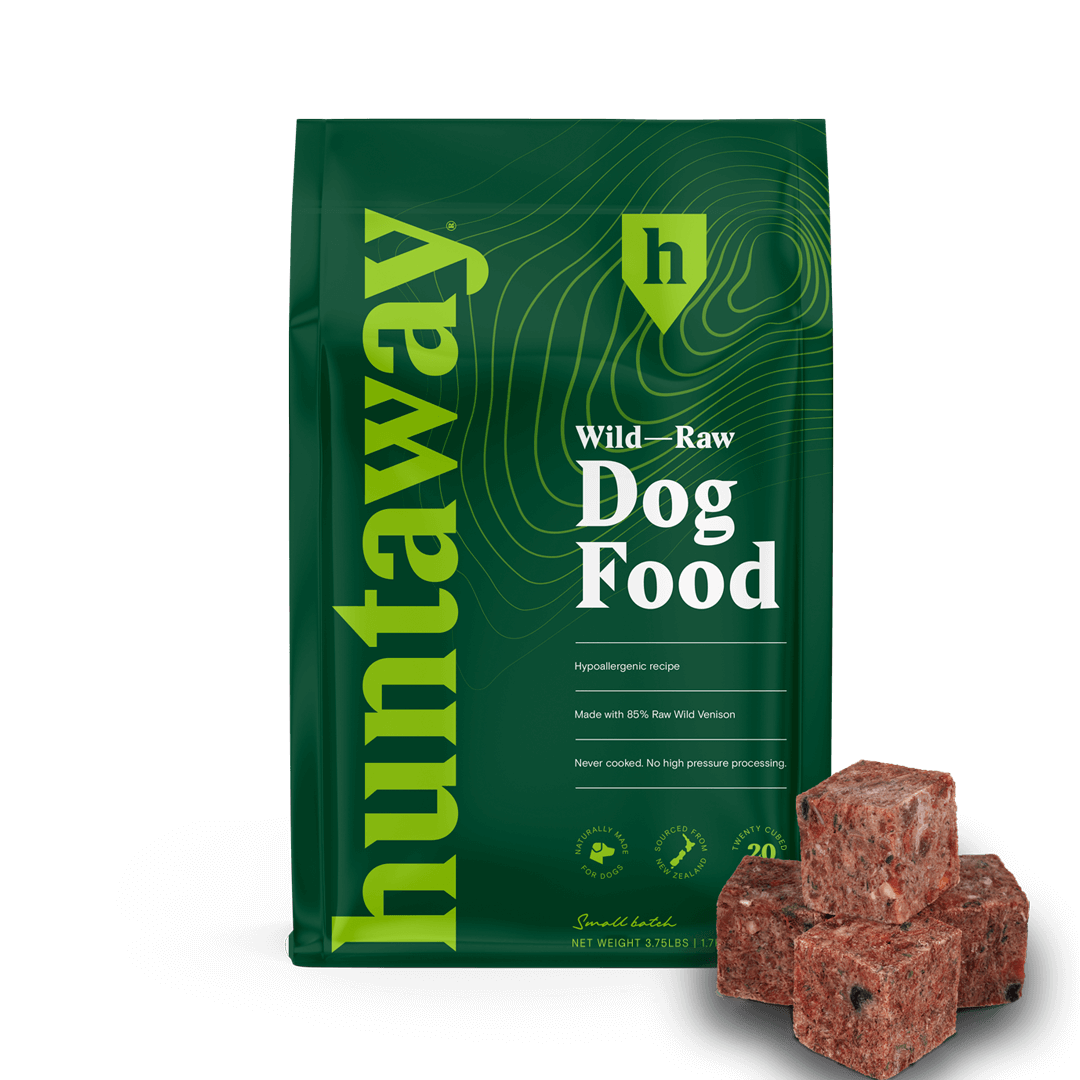 Huntaway Frozen Raw Venison
Regular price
Sale price
$230.00
Unit price
per
Sale
Coming Soon
View full details