Huntaway is a dynamic addition to the Dog Food, Treat & Chew categories.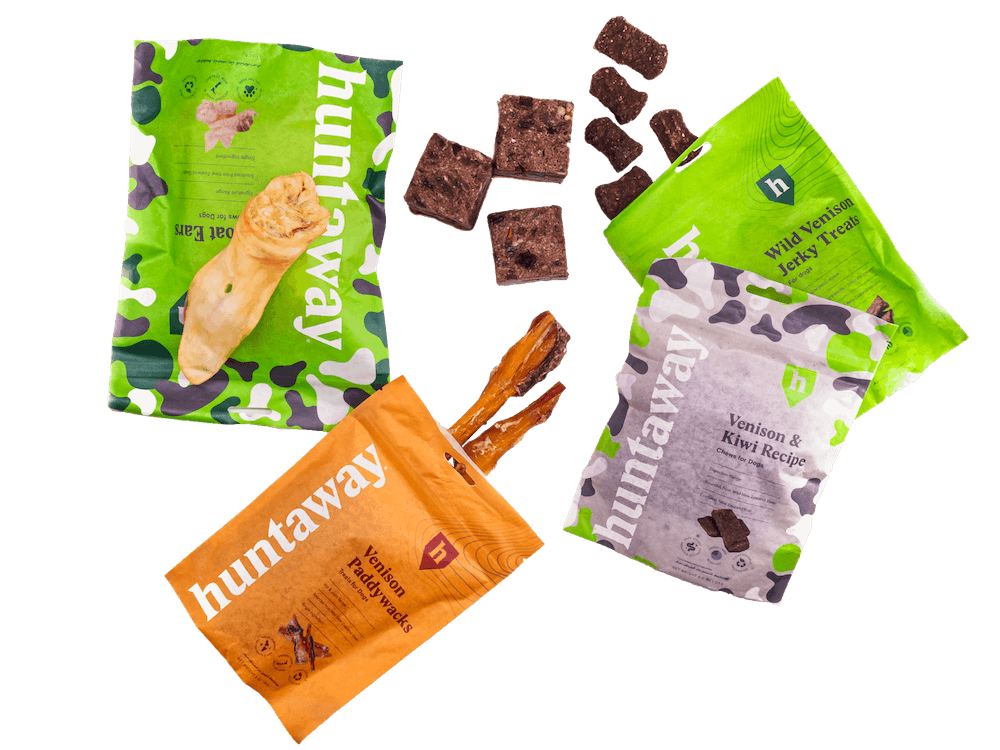 Our Current Products
Huntaway was created to provide a truly nutritious, convenient and sustainable dog food that would let everyone enjoy the benefits of feeding raw, without the fuss.
Huntaway's range has since expanded to include considered treats and functional chews that are a delicious and beneficial delight for your dogs.
All our nutritious recipes are grain free, palm oil free and crafted without GMOs, added hormones or antibiotics. 
An increasing product range
As we mature as a business we continue to refine and improve our current range within their health and benefit focus categories. We are also continually developing and bring new products to market. The below product roadmap shows our current range and our expected new products that are coming soon.
Why Huntaway is so popular
Sustainable Raw Materials

Wild Venison is a lean, nutritious novel protein that, when harvested thoughtfully, can produce quantifiable benefits in greenhouse gas reduction and carbon sequestering through reduced browsing pressure on trees and sub-alpine habitats. 
Eye-catching packaging designed with convenience and environment in mind

Our treat and chew bags are compostable. Our raw frozen products are in freezer-efficient cube form to maximize display space as well as home storage for the customer. The same efficient, recyclable packaging helps to minimize our supply chain footprint.
Strong and secure supply chain

As a vertically integrated business, we control our raw material supply chain. With production intheUS and New Zealand we can react quickly to new product launches, supply chain fills, increases in demand or other challenges.
Full NPD pipeline

Q3 2022 sees us delivering 7 new SKUs to market with more exciting projects in the works. We leverage interesting and nutritious ingredients, innovative production methods, clever packaging and robust marketing support. 
Drop-ship and EDI capable

We have inventories and 3PL partnerships throughout the contiguous United States.
Distributor relationship in place

We have distribution in place for grocery, pet specialty and other channels. 
Accreditations underway

Whilst Huntaway is not a minority-owned or female-owned business, we are underway with our B Corp journey, Pet Sustainability Coalition and Non-GMO status for dried products.
Open to exclusive arrangements

If the opportunity fits our range and ambition, then we are all for it. We value quality, long-term relationships ahead of growth for growth's sake. 
Support via enhanced content, promotion, and social media links

We love talking about our brand and supporting new partners and channels on- and off-platform.
Find out more
Please complete our online form at RangeMe to learn more or check us out on Instagram @huntawaywild to determine if we are a good fit for your business.