Perfect to use as treats or as training rewards for your dog, these nutritious, convenient and sustainable treats are made in NZ from a single natural ingredient, goat tripe. Air dried in small batches for your dog's enjoyment. Tripe is also an excellent source of protein and fiber to support digestion
Regular price
Sale price
$9.99
Unit price
per
Sale
Coming Soon
Digestion Range

Air Dried in small batches

A single ingredient treat for small and large dogs
Natural dog treat, provides digestion support, all life stages
Free from grain, wheat, soy and corn
No artificial preservatives or colors

Made in New Zealand

Net weight: 3oz | 85g
View full details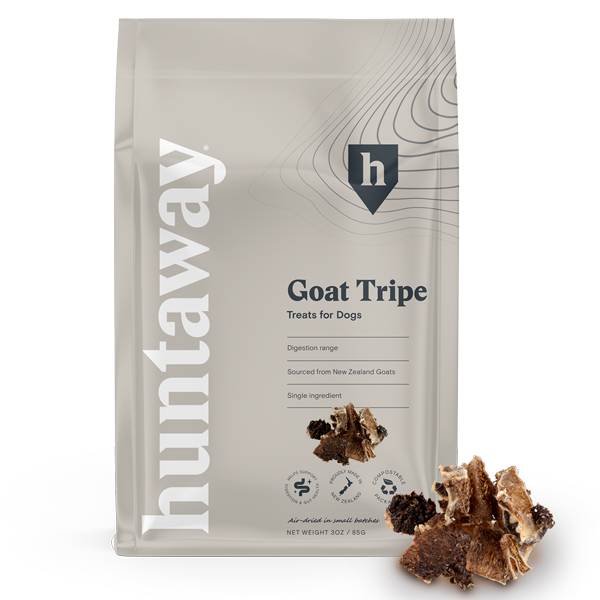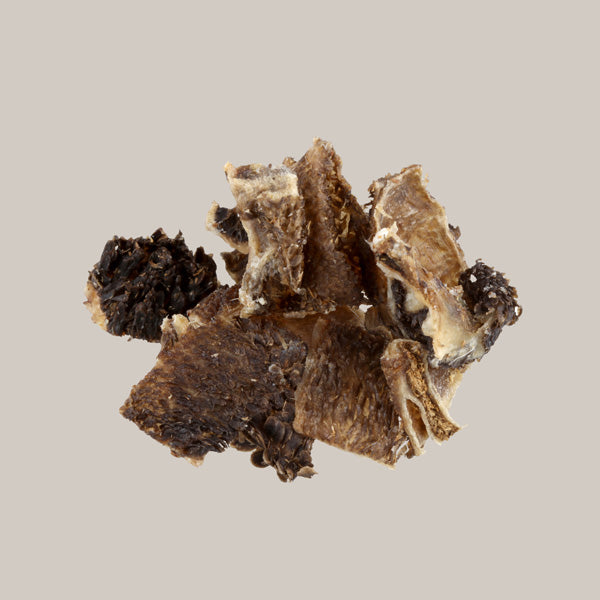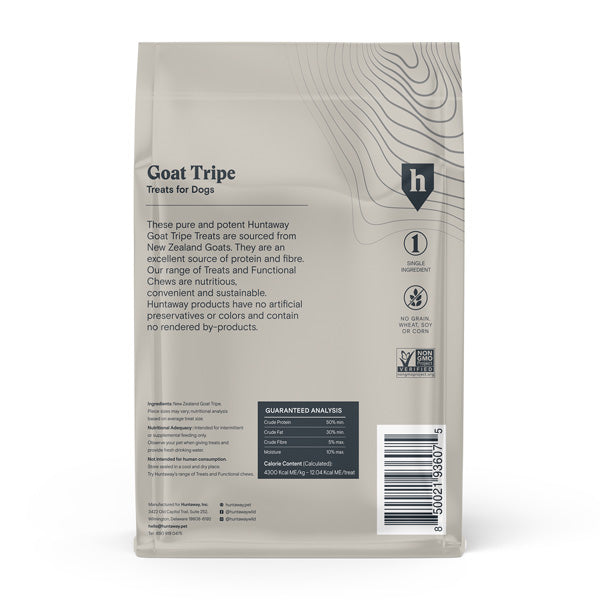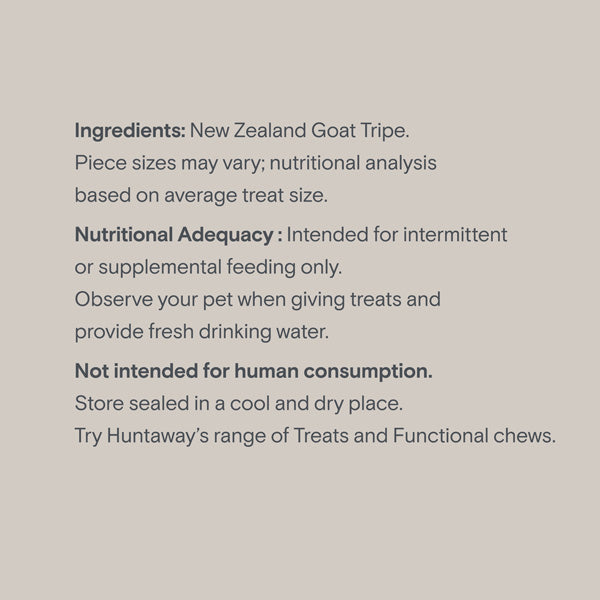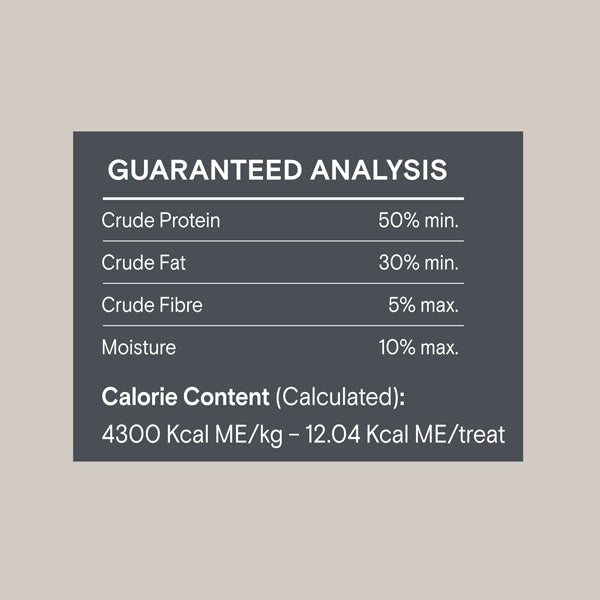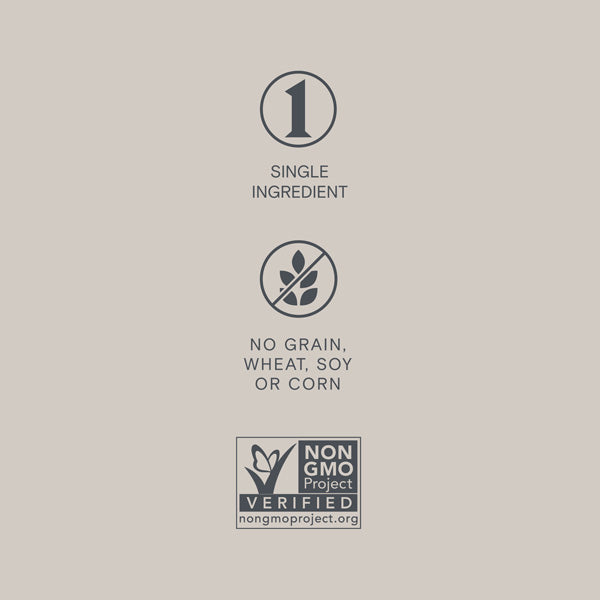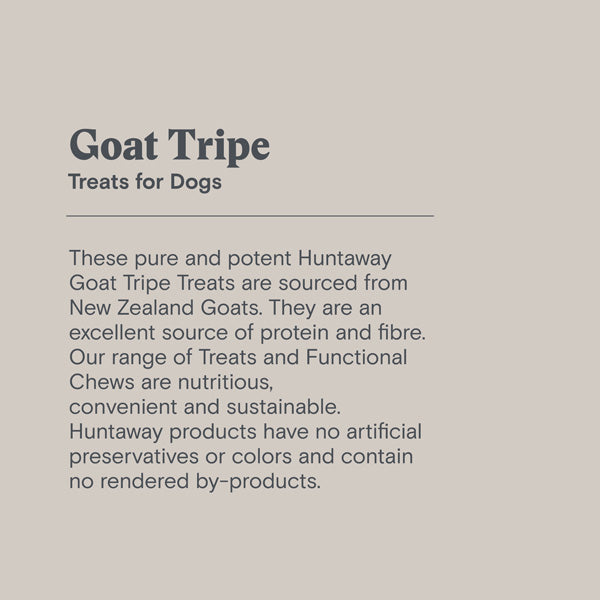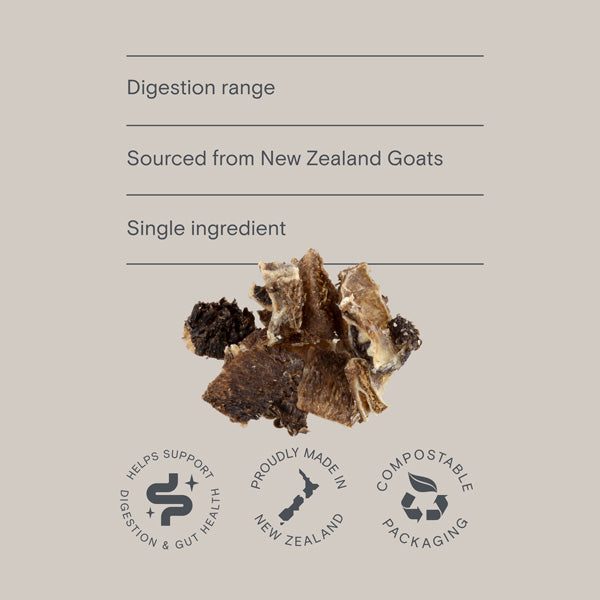 Huntaway Goat Tripe — a single ingredient treat full of nutrients
Convenient

Ideal to use as training rewards or treats for very good pups, this goat tripe dog treat is so easy to use and store! Each bag is resealable and the tripe comes in small bits making it easy to feed to your dog. Mess-free and non-sticky, you'll love the convenience of Huntaway Goat Tripe Treats.

Nutritious

These air-dried goat tripe dog treats are made from a single ingredient, green tripe, and are naturally preserved to provide tasty, healthy dog treats. With no grain, wheat, soy or corn, these high quality treats are an excellent source of amino acids and protein. Each treat is 12kCal and contains at least 50% crude protein and 30% crude fat.

Sustainable

Huntaway's goat products are made from free-range, grass-fed goats that are thoughtfully farmed in New Zealand. Goats are browsers as opposed to grazers so do not tear out root systems and remove nutrient rich grass from our soil. Huntaway Goat Tripe Treats are packaged in compostable packaging for a truly natural, sustainable treat.
Product Information
Why Goat?

Goat is a lean red meat that is full of the nutrients that are needed to support your dog's health. It is a novel protein that provides an excellent source of protein and amino acids, and it is frequently a great choice for dogs with allergies or sensitivities.

All of Huntaway's goat products are made from free-range, grass-fed goats. Our goat tripe dog treats are crafted and air-dried in small batches in New Zealand.
Details

Tripe is naturally full of probiotics and good bacteria that keeps the gut healthy. It's also an excellent source of protein and fiber to support digestion. Perfect to use as treats or as training rewards for your dog, these nutritious, convenient and sustainable treats are made in NZ from a single natural ingredient, goat tripe. Air dried in small batches for your dog's enjoyment.

- Single ingredient
- All Life Stages
- Free from grain, wheat, soy and corn
- No artificial preservatives or colors
- Made in New Zealand
- Net weight: 3oz | 85g

Product analysis

Crude Protein (min) - 50%
Crude Fat (min) - 30%
Crude Fiber (max) - 5%
Moisture (max) - 10%
Raves and Reviews
We love our customers and our customers love us! Find out what dog owners like you think of Huntaway Huntaway Goat Tripe.