Where it all began. Huntaway Wild Raw Venison Dog Food, made from 85% sustainable wild venison and 15% beneficial ingredients including swiss chard, beetroot, blueberries, and parsley, is a great choice for nutrition, convenience and sustainability.
Feeding calculator
Raw Frozen dog food, hypoallergenic recipe
Flash-frozen in convenient, freezer efficient portions, easy storage, thawing and feeding
Our signature raw dog food recipe is made with 85 percent sustainable wild venison and 15 percent natural ingredients including Swiss chard, carrots, blueberries and parsley for fresh breath
Free from grain, wheat, soy and corn, no artificial preservatives or colors
Our raw dog food delivers 164.5 (165) Kcal ME/100g or 139.9 (140) Kcal ME/cube or 46.67 kcal/oz and contains at least 16g/100g crude protein and 10g/100g crude fat.
Made in New Zealand
View full details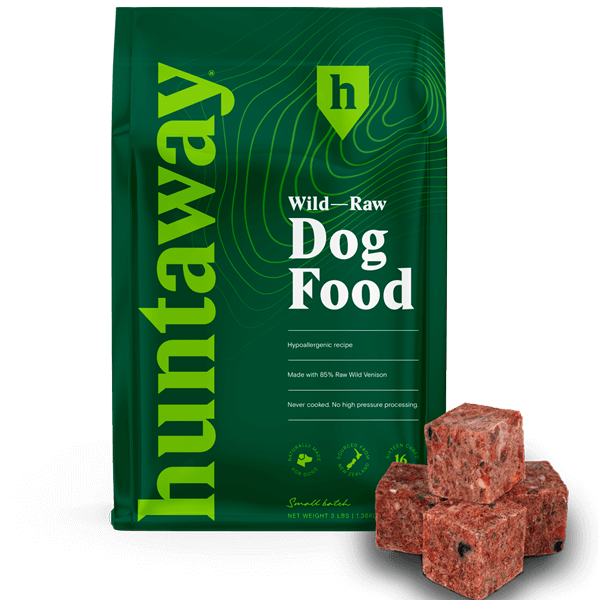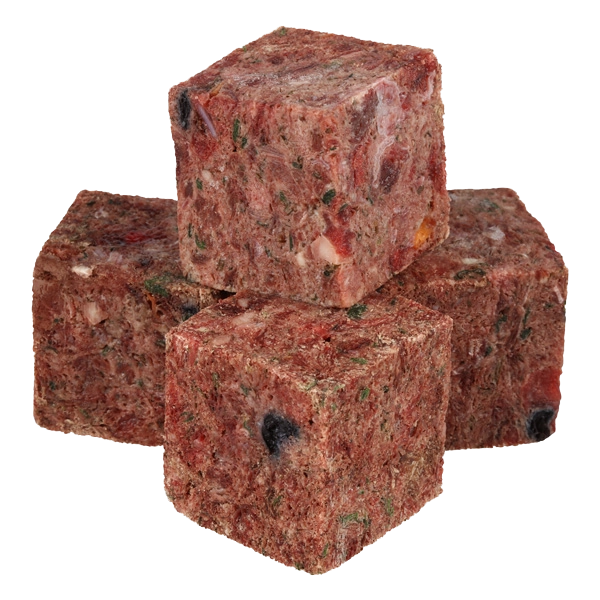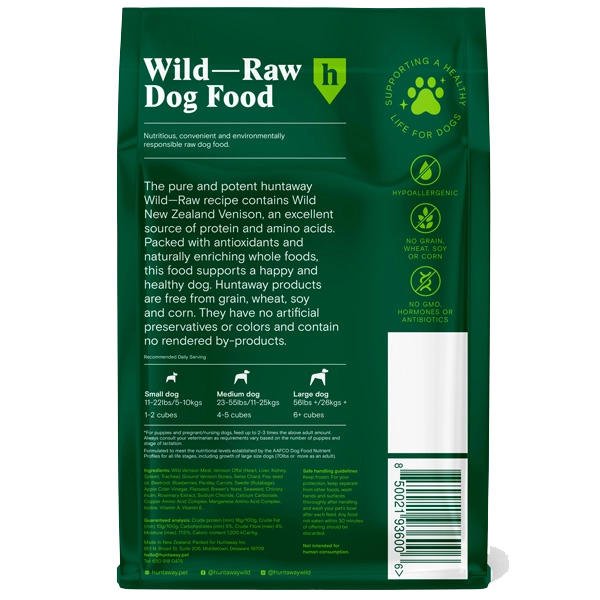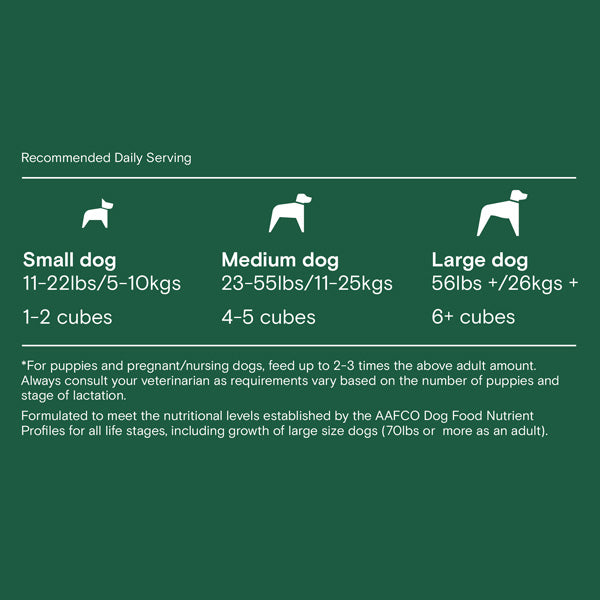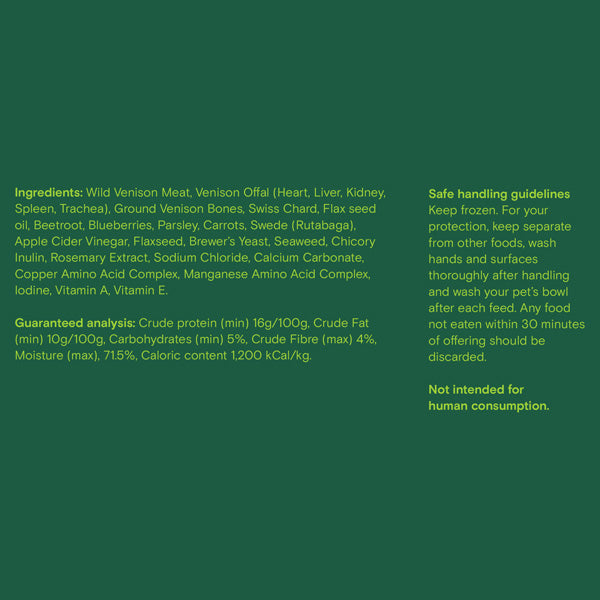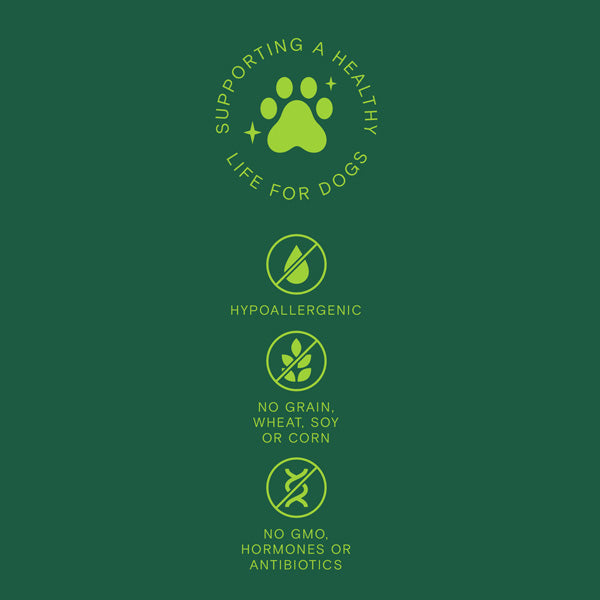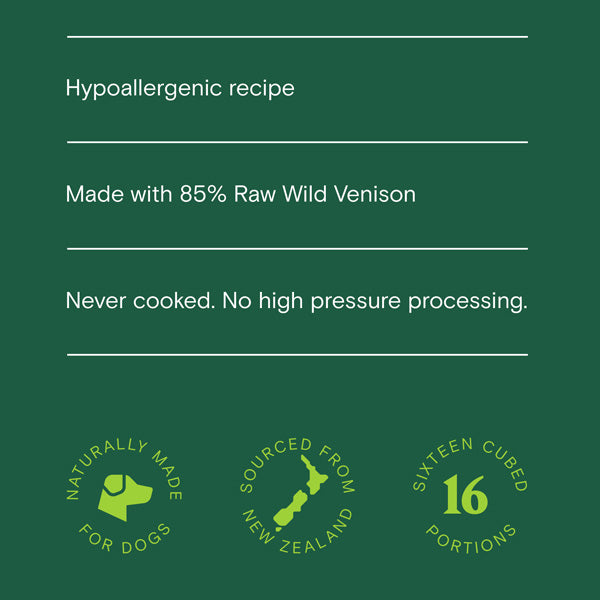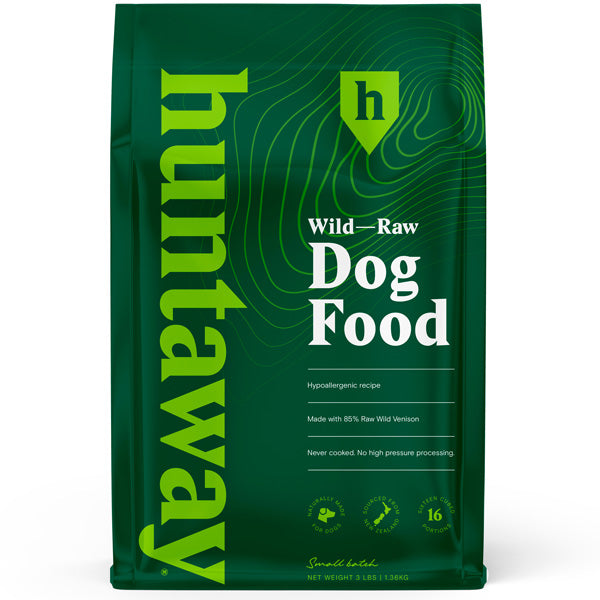 Raw Venison Calculator

Tell us your dog's age, weight and activity level and we will recommend the correct amount of Huntaway raw wild venison you should feed them.
Calculator placeholder
Dog activity cheatsheet
Lazy Bones → low activity

They only moves when I come home and gets <30mins of exercise per day
Minimum maintenance feeding level

Hound of Habit → moderate activity

They likes to play but low impact activity ~30mins → max 1 hour exercise

Your typical family dog probably sits here

Bundle of Energy → quite active to high activity

We take long walks and/or high impact activity of over 1 hour each day

More active breeds with lots of energy may sit and/or maybe puppies/lactating dogs (breed dependent)

Furry Hurricane → high activity

They are so much! Between 3-6 hours daily activity.

Dogs which are hyperactive or working and/or puppies/lactating dogs (breed dependent)
Wild Venison Raw Dog Food (16 piece) — our signature range for daily feeding
Convenient

Our healthy dog food is flash-frozen in cube-shaped portions, which stack efficiently and are easy to separate and thaw for your dog. Our specially-designed freezer-friendly bags have a low-profile form that take up less freezer space.

Nutritious

Our hypoallergenic raw dog food is made from all natural ingredients, primarily wild New Zealand Venison. With no wheat, soy or corn, this high quality grain-free dog food is an excellent source of amino acids and protein. Our raw dog food delivers 1200kCal/kg and contains at least 16g/100g crude protein and 10g/100g crude fat.

Sustainable

Huntaway Wild Raw Dog Food is made from sustainably sourced wild deer that are thoughtfully harvested from New Zealand, where deer are an introduced pest that damage native flora. Huntaway Wild Raw Dog Food is packaged in recyclable packaging for a sustainable and environmentally friendly dog food.
Product Information
Why Venison?

Venison is a lean red meat that is full of the nutrients that are needed to support your dog's health. Venison is a novel protein, an excellent source of protein and amino acids, and it is frequently a great choice for dogs with allergies or sensitivities.

All Huntaway Wild Venison Raw Dog Food is sustainably harvested in New Zealand from wild deer. Our small batch raw dog food is crafted and flash-frozen at our factory in New Zealand.
Details

Each bag of our original Raw Frozen Wild Venison recipe contains 16 x 3oz cubes made with 85% Raw Wild Venison including meat, organs and ground bone.

Our special Huntaway recipe consists of nutrient dense, raw natural ingredients including garden vegetables, kelp and apple cider vinegar. Huntaway contains no grains, wheat, soy or corn, no genetically modified organisms, and no added hormones or antibiotics, and is naturally high in protein.

Our convenient, cube-shaped portions optimize your freezer space while our auto-delivery option ensures you never run out of raw food at the wrong time.
Ingredients

Wild Venison Meat
Venison Offal (Heart, Liver, Kidney, Lung, Spleen, Trachea)
Ground Venison Bone
Swiss Chard
Flaxseed Oil
Beetroot
Blueberries
Apple Cider Vinegar
Flaxseed Fibre
Brewer's Yeast
Seaweed
Chicory Inulin
Parsley
Carrots
Swede (Rutabaga)
Rosemary Extract
Sodium Chloride
Calcium Carbonate
Copper Amino Acid Complex
Manganese Amino Acid Complex
Iodine
Vitamin A
Vitamin E

Product Analysis

Crude Protein (min) - 16/100g
Crude Fat (min) - 10/100g
Carbohydrates (min) - 5%
Crude Fiber (max) - 4%
Moisture (max) - 71.5%
Your dog might also love
Share information about your brand with your customers. Describe a product, make announcements, or welcome customers to your store.